24 Hour Emergency Plumbing Services
Rapid Response- 24 hours a day 7 days a week
Non commissioned service technicians
No hidden fees or undisclosed costs ever
Has a burst pipe left you wading through misery? Has an overflowing toilet flushed away your peace of mind? Did your ailing water heater throw cold water all over your plans for a hot shower?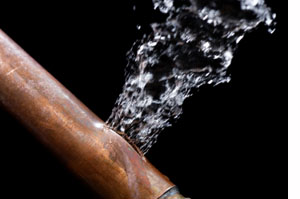 If you answered "yes" to any of these questions, contact Whitton Plumbing right away. Whitton Plumbing responds promptly to all your plumbing emergencies 24 hours a day, seven days a week.
We at Whitton Plumbing pride ourselves on our courteous, professional service. We understand the damage that can be done to a home or office because of an overflowing toilet or burst pipe. A clogged toilet is one of the most common plumbing problems. If your toilet flushes sluggishly or if it overflows, it is most likely clogged. Clogged toilets can flood your bathroom, saddling you with costly repairs. It is therefore vitally important that you seek the professional help as soon as possible when dealing with a clogged toilet. Whitton Plumbing uses professional equipment designed to remove any debris clogging your toilet. This ensures that your pipes are clear of any blockages that might cause future problems.
Burst pipes likewise can ruin an entire home if not dealt with right away. Burst pipes can damage the interior walls of your home. Escaped water can foster the growth of mold and cause floorboards to rot. A burst pipe can ruin an expensive paint or wallpaper job in your favorite room. Therefore it is important that you call Whitton Plumbing as soon a plumbing emergency arises.
PROMPT AND PROFESSIONAL
When you make a call to Whitton Plumbing, we work with you to determine the best time to dispatch a plumber promptly, based on your schedule. Using our sophisticated global positioning system, we at Whitton Plumbing dispatch plumbing professionals from the location closest to you, whether it be in the metropolitan Phoenix or Tucson area. And don't worry about hidden or undisclosed costs: Whitton Plumbing provides you with upfront estimates in order to prevent any unhappy surprises.
YEARS OF EXPERIENCE
Sometimes you'll hear a family business boast that their staff comes from a long line of people in that line of work. In the case of Whitton Plumbing, such a boast represents the honest truth. Whitton Plumbing employs plumbing professionals with years of experience in plumbing. Our plumbing specialists are well-versed in the most current technological advances in plumbing. Whitton Plumbing sees to it that our plumbing professionals receive continuing training and education in the latest quality, safety and manufacturer-certified courses. There isn't a plumbing problem on earth that our plumbing professionals are afraid to tackle!
75,000 satisfied customers in Arizona have made Whitton Plumbing Arizona's top plumbing company.
Whatever your residential plumbing needs are, Whitton Plumbing can meet them. Our team of plumbing professionals is available for emergency services 24 hours a day. Whitton Plumbing charges no overtime and no weekend rates, and we never unpleasantly surprise you with hidden fees or undisclosed costs.
75,000 satisfied customers in Arizona have made Whitton Plumbing Arizona's top plumbing company. We offer free phone estimates for plumbing repairs and projects and we guarantee a rapid response to your plumbing needs 24 hours a day, seven days a week.
Valley Wide: (480) 291-1111
Tucson: (520) 505-3236