Arizona Hot Water Heater Installation and Repair

View our Catalog of Water Heater Products
Is your hot water heater leaving you cold? Had enough with icy showers and frigid baths? Has rust-colored water collected around your hot water heater's perimeter? Is your heater making strange gurgling or popping sounds? If you answered "yes" to any of these questions, contact Whitton Plumbing, Arizona's leading plumbing specialists.
Only a professional plumber should install a new hot water heater. An incorrectly installed water heater not only endangers you and your household, it violates state and local ordinances and codes. We at Whitton Plumbing are familiar with Arizona city codes and safety requirements governing hot water heater installation, and we will see to it that your water heater is properly installed.
TRUSTED BRANDS
For over 20 years, Whitton Plumbing has been installing only the finest hot water heaters from Bradford White, one of America's largest and most trusted Water Heater Manufacturers. Bradford White water heaters feature the unique Hydrojet® system, which unlike other cold water inlet tubes allows water to exit with complete turbulence rather than with a weak diffusing action.
Hydrojet® system turbulence allows for more efficient mixing. This means that water heaters with the Hydrojet® system don't work as hard or as often to maintain a maximum supply of water at a desired temperature. The resulting decrease in energy consumption saves you money on your energy bills. What's more, the turbulent action puts sediment (lime, minerals) into suspension. This keeps the tank clean of harmful deposits and keeps your hot water heater functioning efficiently.
It is important that you properly maintain your hot water heater. A water heater has three basic parts:
The enclosure
The tank assembly
The burner and control assembly
The enclosure holds everything together and protects the tank and other fragile parts from damage. The water tank stores water that arrives cold and leaves heated. The burner and control assembly are responsible for heating the water, discharging combustion gases and adjusting the temperature. (Instead of a burner, an electric water heater has one or two electric heating elements.)
CARE AND MAINTAINANCE
The care and maintenance of an electric and gas water heater are similar: Drain a quart of water from your water tank every 3 months to remove the sediment and sludge buildup that can impede heat transfer and thus reduce the your water heater's efficiency. Make sure also to have your hot water heater checked for rust, which can corrode metal and cause leaks. The type of water tank you have will determines the sort of maintenance you'll need to practice, so follow the manufacturer's instructions for your water heater.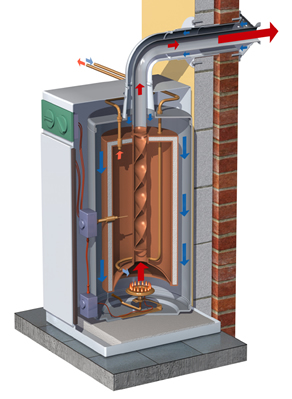 ENVIRONMENTALLY FRIENDLY OPTIONS
If you want to make your home a more energy efficient place, consider installing a new heat pump water heating system. A heat pump hot water system has been designed with maximum energy efficiency in mind because the hybrid functionality between heat pump and standard electric elements ensures the best of both worlds for your household. The heater uses either a compressor or evaporator to draw ambient heat from surrounding air and then transfers that heat via coils into the tank and heats the water. But if the water heater determines that faster temperature recovery is in order, it cycles on standard electric heating elements.
Tankless hot water heating systems present a second "green" option. Tankless hot water heating systems heat water directly without the use of a storage tank. Because tankless hot water heaters avoid the standby heat losses associated with conventional storage water heaters, they are much more energy efficient. Tankless hot water heaters only heat water when it's required. This reduces energy consumption by ten to 15 percent.
Or you may want to consider installing a hot water recirculation system that constantly re-circulates hot water. This produces hot water on demand, preventing the waste of thousands of gallons of water each year. We also install heating systems that automatically switch off in the middle of the night to save precious energy.
Take the following steps to reduce your water heating bill:
Use less hot water
Turn down the thermostat on your water heater
Insulate your water heater
Invest in a new, more energy efficient water heater
SAVE MONEY - GO GREEN
It pays to have an energy efficient hot water heater installed in your residence. Water heating is a considerable energy expense for the typical American household, accounting for roughly 13 percent of a household's utility bill.
Installing an energy efficient water heater may qualify you for a government rebate. So you save money on your energy bills, reduce your federal tax burden and save the environment -- all at the same time!
Contact Whitton Plumbing for all your hot water heater installation and repair needs. We'll make sure your water heater is properly installed and is in compliance with city codes and safety regulations. 75,000 Arizona households will agree that Whitton Plumbing is Arizona's top plumbing company. Whitton Plumbing specializes in hot water heating systems. We offer free phone estimates for plumbing repairs and projects, and we guarantee a rapid response to your plumbing needs 24 hours a day, seven days a week.
For more information about water heaters contact Whitton.
Valley Wide: (480) 291-1111
Tucson: (520) 505-3236