Arizona Leak Detection Service
If you're experiencing pipe leakage - You need Whitton.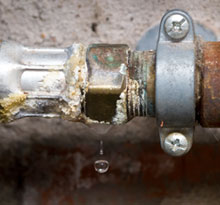 Leaks can spring up anywhere in your plumbing system -- in basements and irrigation systems, behind walls, under asphalt and concrete slabs. And they are a common problem. Approximately one in every 318 homes or buildings has a leak.
Leaks are difficult to pinpoint, and even harder to repair. That's why you need to contact Whitton Plumbing, Arizona's premier plumbing specialists. A leak within your household's plumbing can cause tremendous damage if not dealt with promptly.
LEAKS WASTE WATER
The fact that even a small leak can waste thousands of gallons of water means it's important that you contact Whitton Plumbing right away. A 1/8-inch hole in a metal pipe at 40 psi leaks 2,500 gallons of water in 24 hours. And a leak as small as a pinhead can waste 360,000 gallons of water per year. That's enough to fill 12,000 bathtubs! Fixing minor leaks in your household can therefore save you more than 10 percent on your water bill.
And you don't need to tear your house apart to find the source of a leak. We at Whitton Plumbing can identify the source of your leak with our high-tech leak-detection equipment, which features a state-of-the-art camera detection system.
LEAKS IN SEWER SYSTEMS
Keep an eye open for these common signs of a leak in your plumbing system:
Hot spots on your floor, which can indicate a hot water leak
The sound of running water when no water should be running
Cracks in walls or floors
Mildew or moisture under your carpet, which can indicate that pipes are leaking water
Uneven vegetation growth, or cracks in your home's foundation
Unusually high water bills
Whitton Plumbing can also help you detect leaks in your sewer system. Foul odors issuing from floors or walls near drains or sewers signal the likelihood that your sewer system has a leak in it. Because they can contaminate nearby soil and groundwater, sewer system leaks present a serious environmental problem.
Soil slippage
Loss of foundation due to a washout
Tree root invasion
Flooding
Sewage backup
STATE-OF-THE-ART EQUIPMENT
Whitton Plumbing's state-of-the-art sewer line camera inspection service pinpoints water and sewer line cracks and leaks with minimal disordering of your yard or property. Sewer inspections save money and time by visually identifying and locating problems in your sewer lines. Whitton Plumbing's high-tech sewer inspection camera travels through your sewer lines and allows us to locate quickly and efficiently problems in your sewer line. Using our camera, we can pinpoint the depth and location of common problems that afflict sewer systems, including bellied drain lines, debris blockage, root intrusion, deteriorated piping materials and leaking pipe joints. We even offer the unique service of recording and storing camera footage of your sewer damage should the problem require further attention in the future.
Leaks can cause significant damage to your home and property if not dealt with promptly in a professional manner. Contact Whitton Plumbing for all your leak detection needs. Whitton Plumbing is Arizona's top plumbing company, having serviced over 75,000 Arizona homes. We offer free phone estimates for plumbing repairs and projects, and we guarantee a rapid response to your plumbing needs 24 hours a day, seven days a week.
For more information about faucets and sinks contact Whitton.
Valley Wide: (480) 291-1111
Tucson: (520) 505-3236