Arizona Home Remodeling Services
Have you been thinking about tackling a home remodeling project? Does your abode cry out for a new porch or pool house? If you answered "yes," then Whitton Plumbing, Arizona's premier plumbing specialists, can help you see these projects through with minimal stress or difficulty.
Planning and executing a home remodeling project can be a time-consuming and costly affair if you don't consult the right professionals. Our prices are affordable and our craftsmanship unbeatable. Let Whitton Plumbing handle your home remodeling needs. Whatever the project, Whitton Plumbing will plan and execute it in a professional and timely manner.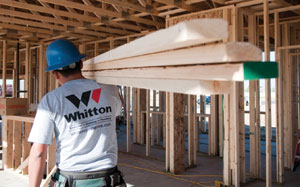 FRAMING YOUR PROJECT
Whitton Plumbing will do everything from framing the project to pouring the concrete. The concept of framing is quite simple. Framing is the first step of many in your home remodeling project. A building frame defines either an object or a space in your home. The floors, walls and roof of your house all require framing. Small details too require framing. Doors, windows, fireplaces, skylights and stairs are all framed.

DECIDING THE DETAILS
You don't need to remodel your entire home to give it a fresh look. Selective remodeling can go a long way toward giving your entire house fresh appeal.
Once your project is framed, you can decide on more minute details, like what type of flooring you would like your remodeled home to have. Once the subfloor is installed, you can decide on whether you want wood, tile, stone, or carpet flooring. Flooring is usually installed right at the end of a home remodeling project. The choices for flooring in your home are numerous: hardwood, bamboo, laminate, linoleum, ceramic tiles, marble floors, carpet, vinyl sheet, rubber and cork flooring are options for the would-be home remodeler.
Bathrooms are popular areas to remodel. With the help of Whitton Plumbing, you can turn your drab bathroom into an elegant home spa. Consider installing plumbing fixtures like large showers with waterfall showerheads or spa tubs with massaging jets. Installing two sinks in your master bathroom will give it a sophisticated look, as will adding soft and flattering lighting.
KITCHEN REMODELING
Kitchens are also prime spots for small remodeling projects. Replace Formica countertops with granite, marble or limestone counters, or consider installing a walk-in pantry to allow for more storage room. An island installed in the center of your kitchen might provide a new space for preparing food or entertaining guests. Even new flooring can make a big, bold difference in an otherwise boring kitchen. The kitchen is one of the places in a home where floors quickly become dirty. Make sure to take this fact into consideration when deciding on new flooring. Consider also how slippery the flooring is and how gentle (or tough) it is on your back after standing on it for long periods of time. Hardwood flooring has lots of "give" to it and is therefore easier on your back than harder flooring like tile or stone.
Don't be intimidated by a home remodeling project. Whether it is something large, like the remodeling of your entire residence, or a smaller project like a porch swing or pool house, Whitton Plumbing will see to it that your home remodeling project is a success. If you are considering a home remodeling project, contact Whitton Plumbing right away. We are Arizona's top plumbing company, having provided plumbing services to over 75,000 Arizona homes, and we specialize in home remodeling projects of all types. We offer free phone estimates for home remodeling projects, so contact us today.
Valley Wide: (480) 291-1111
Tucson: (520) 505-3236