Tankless Hot Water Heaters

View our Catalog of Tankless Water Heater Products
Do your dreams of owning a greener, more energy-efficient home come crashing down every time you open your latest utility bill? If you answered "yes," then a Rinnai® tankless water heater installed by the professionals at Whitton Plumbing may be the key to turning this dream into reality.
Tank water heaters present quite a few drawbacks to consumers like you who want to slash their electricity bills. Tank water heaters must operate 24 hours a day to maintain a set temperature range, and they can supply hot water only for very short periods of time, which means that back-to-back showers and even full, steamy baths are usually out of the question. And their inefficiency and inadequacy is met with a third drawback -- a short lifespan. Average life expectancy of a tank water heater runs from eight to ten years.
Tankless water heaters reduce energy consumption by ten to 15 percent.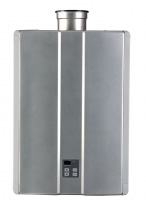 THE DIFFERENCE?
Tankless hot water heating systems, on the other hand, heat water directly and thus eliminate the need for a storage tank. This makes tankless hot water heaters more energy efficient because they avoid the standby heat losses associated with conventional storage water heaters. Tankless hot water heaters only heat water when it's needed. This reduces energy consumption by ten to 15 percent, which translates into considerable savings on your electricity bill.
After furnaces and air conditioners, water heaters are the third largest consumers of energy in homes. It makes sense, then, to consider installing a Rinnai tankless water heater in your home. Established in 1920 and employing over 7,000 employees worldwide, Rinnai is the largest tankless water heater company in the world, commanding almost half the market in the United States for tankless systems. Rinnai has supplied thousands of satisfied customers with tankless hot water heating systems.
HOW IT WORKS
How does a tankless water heater operate, you ask? Well, first the temperature is set on the remote controller, then the hot water tap opens and water begins to flow. Following this, a turbine spins and sends a signal to the PC board through a flow sensor, which starts the combustion fan motor. The burner is then ignited by direct electronic ignition, and the unit fires when the flame rod senses a flame in the burner. When the hot water tap is turned off, the unit once again returns to standby mode. The system is quick and efficient -- and it ensures that you will never have to endure frigid showers or icy baths again.
Features of Rinnai tankless hot water heaters include:
Multiple safety features
Digital keypad
Direct electronic ignition
Unbeatable warranty
Replaceable parts
LONG LASTING
Your Rinnai tankless hot water heater system will serve you in good stead for years -- more than 20, to be exact. And it won't take up as much space in your home as does a tank water heater. A Rinnai water heater fits easily in closets, attics, crawlspaces, outdoor locations, rooftops, and other confined areas.
Rinnai tankless hot water heaters provide the quality and reliability you demand as a discriminating, cost-conscious consumer. And they also provide safety. Tankless hot water heaters not only eliminate the risk of scalding, but they also remove the concern of catastrophic tank rupture that comes with tank water heaters. Of the thousands of customers who have already said "yes" to a Rinnai tankless hot water heater system for the comfort and security of themselves and their families, 93 percent of them said they would recommend Rinnai over all other tankless hot water heater companies.
EXPERT INSTALLATION
Should you decide to join the growing ranks of Rinnai's happy customers, we at Whitton Plumbing stand ready to help. Our plumbing and heating professionals will expertly install your tankless hot water heater. And it's best you leave this job to us, because improper installation of a water heater creates a potentially disastrous situation. So contact Whitton Plumbing for all your tankless hot water heater installation and repair needs. We'll properly install your Rinnai tankless hot water heater system and see that it complies with city codes and safety regulations.
75,000 Arizona households agree that Whitton Plumbing is Arizona's top plumbing company. Whitton Plumbing specializes in Rinnai tankless hot water heating systems. We offer free phone estimates for plumbing repairs and projects, and we guarantee a rapid response to your plumbing needs 24 hours a day, seven days a week.
For more information about Tankless Water Heating Systems, contact Whitton.
Valley Wide: (480) 291-1111
Tucson: (520) 505-3236