Arizona Outdoor Misting Systems

View our Catalog of Outdoor Misting Systems Products
Does the Arizona sun threaten to wilt your garden parties or scorch your barbecues? Would you like to keep on enjoying outdoor activities even during the heat of July? Are you searching for a way to keep your domestic animals or livestock cool and comfortable?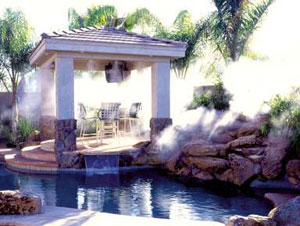 If you answered "yes" to any of these questions, contact Whitton Plumbing, Arizona's premier plumbing specialists. Our courteous, professional staff can install a misting system that can tame even the dog days of summer.
HOW THEY WORK
Misting systems work by evaporating water droplets into the air in surrounding areas in need of cooling. Water is forced via a high pressure pump and tubing through a brass and stainless steel mist nozzle that has an aperture of about 5 micrometers. An opening this small creates a micro-fine mist as water is forced through it. The water droplets are so tiny, in fact, that the mist they form evaporates almost instantly -- so you don't have to worry about anyone getting drenched! This fine mist will cool the surrounding air, making an otherwise hot and dry environment pleasant and comfortable.
Misting systems can reduce the temperature of the immediate area by as much as 35 degrees F, and can do so in a matter of seconds.
When properly installed, a misting system cools the surrounding air by producing a curtain of mist. Flash evaporation of this mist around all open-air sides of a structure can reduce the temperature of the immediate area by as much as 35 degrees F, and it can do so in a matter of seconds, depending on the outdoor temperature and relative humidity. The higher the outdoor temperature, the faster the water from the misting system evaporates and cools the surrounding environment. For patio systems, it is ideal to mount the mist line approximately 8 to 10 feet above the ground for optimum cooling.
ELMINATE INSECTS
Outdoor misting systems will even keep mosquitoes, wasps and other bothersome insects at bay. The movement of flying insects is hampered by the mist produced by the cooling system. The fine droplets stick to them, rendering them immobile.
But winged annoyances aren't the only kind a patio mister will eliminate. It will also clear the surrounding area of dust, smoke and other airborne pollutants.
We at Whitton Plumbing design and install misting systems intended to keep your patio or pool deck cool and bug-free. In addition to residential misting systems, we design and install commercial misting systems for use in manufacturing facilities or livestock enclosures.
GREENHOUSE MISTING SYSTEMS
We can even install a misting system in commercial or residential greenhouses to help keep plants cool and growing. (Misting the leaves of plants keeps them from respiring too much and allows starter plants and cuttings to grow before their leaves shrivel.)
Misting systems in greenhouses are usually installed on the underside of the greenhouse roof or on poles that position the misting heads just above the young plants. Most greenhouse misting systems have misting nozzles that are connected by pipes to a water line. By installing a misting system in your greenhouse, Whitton Plumbing can see to it that your plants thrive in a climate-controlled environment.
BEAT THE HEAT
Installing an outdoor misting system is the best way to enhance your enjoyment of all your favorite summer activities, as well as an effective way of keeping your employees happy and comfortable as they work. If you are considering installing an outdoor misting system in your home or commercial space, contact Whitton Plumbing right away. Whitton Plumbing is Arizona's top plumbing company, having provided plumbing services to over 75,000 Arizona homes, and we specialize in outdoor misting systems. We offer free phone estimates for plumbing repairs and projects like outdoor misting systems, and we guarantee a rapid response to your plumbing needs 24 hours a day, seven days a week.
For more information about misting systems contact Whitton.
Valley Wide: (480) 291-1111
Tucson: (520) 505-3236