Arizona Garbage Disposal Repair and Installation

View our Catalog of Garbage Disposal Products
Is your garbage disposal suddenly cantankerous, growling, gurgling and grumbling at you every time you switch it on? Does it now refuse the refuse it once gobbled up so greedily? Or has it simply come time to retire it for a newer, more efficient model?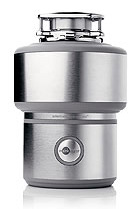 If you answered "yes" to any or all of these questions, then Whitton Plumbing, Arizona's premier plumbing specialists, stands ready to help you with all of your garbage disposal repair and installation needs.
A garbage disposal is an electrically powered device installed under the kitchen sink between the sink's drain and trap. It shreds food waste into pieces small enough to pass through your household plumbing. Food scraps represent 10 to 20 percent of household waste; garbage disposals thus help reduce the amount of waste sent to landfills. A garbage disposal allows a homeowner to dispose of food waste in liquid form, thereby using existing infrastructure like underground sewers and wastewater treatment plants for its management.
HOW IT WORKS
A garbage disposal operates in a fairly straightforward manner. A high-torque, insulated electric motor spins a circular turntable mounted horizontally above it. This turntable is surrounded by a shredder ring, which has a number of sharp slots. The scraps of food sit on the turntable and, by means of centrifugal force, are propelled to its perimeter and through the shredder ring. The turntable uses swiveling lugs to assist the food waste through the shredder.
JAMMED GARBAGE DISPOSALS
Sometimes a garbage disposal will become jammed. These jams, which can be due to forcing inappropriate foodstuffs down the disposal, can usually be cleared by forcing the turntable round from above or by turning the motor with a hex-key wrench inserted into the motor shaft from below. If neither solution should work for your jammed garbage disposal your next step should be to contact Whitton Plumbing. We specialize in garbage disposal repair and installation, and can provide the service you need for your garbage disposal.
The Waste King 1.0 HP disposal has a number of useful functions and features, including:
The longest warranty in the industry
A high speed 2800 RPM permanent magnet motor that enables better and faster waste disposal
Stainless steel grinding components
A continuous feed unit
A professional 3-bolt mount system
Perhaps you want to invest in a brand new garbage disposal. If so, call Whitton Plumbing. We feature and install Waste King Products' Legend Series Top-of-the-Line 1.0 HP Disposal.
HIGH-QUALITY BRANDS
What's more, the Legend Series 1.0 HP Disposal is safe for properly sized septic tanks. Whitton Plumbing also installs In-Sink-Erator brand products, which nine out of ten plumbing professionals recommend for their quality and performance. In-Sink-Erator products are easier to install and provide greater peace of mind because they offer exclusive We Come To You™ In-Home Service Warranties, which are honored by the Whitton Plumbing Service Department. In-Sink-Erator garbage disposals also feature Dura-Drive Induction Motors, which are manufactured by In-Sink-Erator to exacting specifications meant to ensure excellent performance from and a long life for your garbage disposal.
MAINTAINING YOUR GARBAGE DISPOSAL
To keep your garbage disposal in tip-top shape for years to come, make sure to periodically grind a few ice cubes in it to keep the blades sharp and clean. And when you're out of town for an extended period of time, put a few squirts of vegetable oil (or WD-40) in your disposal to prevent it from seizing up from disuse.
Whitton Plumbing is your one resource for all your garbage disposal installation and repair needs. We'll repair or make sure your garbage disposal is properly installed. 75,000 Arizona households will agree that Whitton Plumbing is Arizona's top plumbing company. Whitton Plumbing specializes in garbage disposal and repair. We offer free phone estimates for plumbing repairs and projects, and we guarantee a rapid response to your plumbing needs 24 hours a day, seven days a week.
For more information about Arizona Garbage Disposal Repair and Installation, contact Whitton.
Valley Wide: (480) 291-1111
Tucson: (520) 505-3236