Low-Flow Toilets
A high-efficiency toilet can save your household up to 16,500 gallons of water in just one year because a high-efficiency toilet typically discharges only 1.6 gallons of water per flush (some even as little as 1.28), whereas the average household toilet discharges three gallons.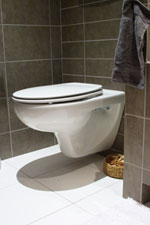 You can see, then, that a high-efficiency toilet can net you considerable savings when it comes to your water bill. We at Whitton Plumbing, Arizona's premier plumbing specialists, stand ready to answer your questions about the new Kohler® high-efficiency, low-flow toilets we proudly stock and install.
THE KOHLER BRAND
The Kohler brand is one you can trust. A company devoted to a philosophy of environmental, social and economic responsibility, Kohler works vigorously to reduce their carbon and industrial-waste footprint each year, and they have set for themselves the goal of achieving a net-zero environmental footprint by 2035. Kohler also instructs its many customers and its 30,000 associates in environmentally-friendly practices
Some environmentally, socially and economically responsible practices of Kohler's include:
Installing more efficient lighting in their Texas plant to save 7,555,000 KW hours of energy, enough to power over 100,000 laptops for a year
Redesigning their toilet seat packaging, which resulted in a weight reduction of 308,000 pounds shipped each year
Encouraging its foundries and potteries to recycle, a campaign that resulted in recycling 195,000 tons of material in five years
SUSTAINING THE ENVIRONMENT
Kohler's commitment to environmental sustainability hasn't gone unnoticed. In 2008 the company won the WaterSense Manufacturing Partner of the Year. WaterSense is a partnership program sponsored by the U.S. Environmental Protection Agency that promotes water-efficient products and practices across the country. Toilets with the WaterSense label help to make your home a greener place because they use at least 20 percent less water than their less efficient counterparts. And they do so without sacrificing performance.
Kohler's products reflect the company's commitment to environmental responsibility. Take for example the Wellworth® Pressure Lite® elongated 1.0 gpf toilet with tank cover locks. The Wellworth elongated toilet weds graceful design to superior functionality. It uses Pressure Assist Technology to deliver robust flushing power without wasting water. In fact, the Wellworth elongated toilet saves 2,000 to 5,000 gallons of water a year, and also helps a building earn Water Efficiency points in the LEED Green Building Rating SystemTM. Then there's Kohler's toilets with Power Lite® technology, which also saves households 2,000 to 5,000 gallons a year.
Toilets account for 26 percent of your household's indoor water use. Installing newer, more efficient models thus presents the best way to conserve water and reduce utility costs. Don't you think it's time you considered installing one of Kohler's high-efficiency, low-flow toilets? We at Whitton Plumbing stand ready to help you equip your home with the right high-efficiency toilet.
75,000 satisfied Arizona households agree that Whitton Plumbing is Arizona's premier plumbing company. We offer free phone estimates for plumbing repairs and projects, and we guarantee a rapid response to your plumbing needs 24 hours a day, seven days a week.
For more information about Low-Flow Toilets, contact Whitton.
Valley Wide: (480) 291-1111
Tucson: (520) 505-3236