Hybrid Electric Heat Pump Water Heater

View our Catalog of Hybrid Electric Water Heater Products
The icy showers and tepid baths you've been taking means that your hot water heater is no longer living up to its name. It's high time, then, that you called Whitton Plumbing, Arizona's leading plumbing specialists.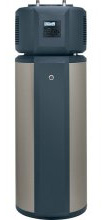 We at Whitton Plumbing can meet all of your hot water heater needs because we stock and install the latest and most advanced systems, including the GE® Hybrid water heater.
GE leads the industry by providing customers with energy efficient products like its Hybrid water heater, which can help to transform customers' homes into more environmentally friendly, cost-effective places.
GE's Hybrid electric water heater can reduce your household's water heating costs up to 62 percent. That's a savings of over $320 per year for households with three occupants. And you can enjoy the peace of mind which comes with knowing that the GE Hybrid, the very first unit to have earned ENERGY STAR® certification, will reduce your household's carbon footprint.
ADVANCED TECHNOLOGY
The GE Hybrid uses advanced heat pump technology in combination with traditional electric elements to supply your household hot water needs. The hybrid functionality between heat pump and standard electric elements brings maximum energy efficiency to your household water heating. The heater uses either a compressor and evaporator to draw ambient heat from surrounding air and to transfer that heat via coils to the water in the tank, or, if the water heater determines it needs a faster temperature recovery time, it uses standard electric heating elements.
The GE Hybrid water heater has four operating modes:
Hybrid Mode: This is the heater's default mode where it operates as a heat pump using 550 watts and can cycle on an upper heating element for fast recovery of ten gallons.
High Demand: This mode allows the heater to operate first as a heat pump, which brings on the upper heating element for the fast recovery of 10 gallons. It can also cycle on the lower heating element for full tank recovery based on water usage.
Standard Electric: The heater can operate as a standard electric water heater cycling upper and lower heating elements.
E-heat Mode: The heater operates using only the heat pump.
The GE Hybrid electric hot water heater also has a vacation mode, which lowers the tank temperature to 50 degrees for 3-90 days. It returns to its set temperature on the last day.
HOW IT WORKS
When setting your GE Hybrid water heater, you can choose between three settings: Energy Saver mode, Normal mode, and a temporary Electric Heat Only setting. The Energy Saver mode works by extracting warmth from the surrounding air, concentrating the heat, and delivering it to the water. When hot water demands are high, you can use the Normal setting, where both the heat pump and electric element will operate as needed. The temporary Electric Heat Only setting is available to ensure hot water availability without operating the heat pump.
If just 25 percent of US households purchasing a new electric water heater in a given year were to choose GE's Hybrid water heater over a standard 50-gallon electric water heater, they would eliminate more than 4 billion pounds of CO2 emissions annually in the United States alone. That's the equivalent of the annual emissions of 360,000 cars on U.S. roads -- and a terrific reason to replace your old water heater with a GE Hybrid water heater.
PROPER INSTALLATION MATTERS
Only qualified plumbing and heating professionals should install a water heater system because a system improperly installed endangers you and your family. We at Whitton Plumbing stand ready to serve all of your hot water heater installation and repair needs. We'll properly install your GE Hybrid water heater and make sure it complies with city codes and safety regulations.
Installing an energy efficient water heater may carry with it the added bonus of a government rebate. The federal government grants a tax credit for the purchasing and installing of certain energy efficient hot water heating systems. So making your home green helps to save you green.
For the specifics on how to qualify for a tax credit on both new solar and non solar water heaters visit the following link: http://www.energystar.gov/index.cfm?c=tax_credits.tx_index

Water Heaters (non-solar)
Gas, Oil, Propane Water Heater
Electric Heat Pump Water Heater
Solar Energy Systems
CUT COSTS
Installing an energy efficient hot water heating system is the best way to cut costs and make your home a greener place. If you are considering installing a solar-powered, tankless, or other type of energy efficient hot water heating system in your home, contact Whitton Plumbing without delay.
Whitton Plumbing is Arizona's top plumbing company, having serviced over 75,000 Arizona households agree that Whitton Plumbing is Arizona's top plumbing company. Whitton Plumbing specializes in Hybrid hot water heating systems. We offer free phone estimates for plumbing repairs and projects, and we guarantee a rapid response to your plumbing needs 24 hours a day, seven days a week.
For more information about Hybrid Electric Heat Pump Water Heating Systems, contact Whitton.
Valley Wide: (480) 291-1111
Tucson: (520) 505-3236