Arizona Residential Plumbing Services
Whitton Plumbing can tackle all of your residential plumbing needs. From pipe and drain cleaning to leaks and sewer locating, Whitton Plumbing provides fast, professional service free of hidden fees and undisclosed costs.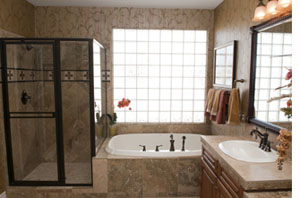 Call on Whitton Plumbing if you are looking to replace worn out piping throughout your home or office. We can replace antiquated pipes, which can lead to low water pressure, brownish water, scalding showers and leaky overhead pipes with new copper tubing.
Or maybe your household has leaky faucets. Ignoring a leaky faucet can cost you hundreds of dollars in wasted water. The National Sanitation Foundation reports that a faucet that leaks as slowly as one drip a second can waste as much as 2,000 gallons a year in water and cause damage to your sink basin. The cost of these wasted gallons of water quickly adds up, which is why it is important to contact Whitton Plumbing to repair the leaky faucets in your households.
GARBAGE DISPOSAL INSTALLATION
If you are considering getting rid of a garbage disposal that has seen better days, contact Whitton Plumbing. Whitton Plumbing features and installs Waste King Products' Legend Series Top-of-the-Line 1.0 HP Disposal.
The 1.0 HP garbage disposal by Waste King Products has a number of useful functions and features, including:
The longest warranty in the industry
A high speed 2800 RPM permanent magnet motor, which enables better and faster waste disposal
Stainless steel grinding components
A continuous feed unit
A professional 3-bolt mount system
What's more, the Legend Series 1.0 HP Disposal is safe for properly sized septic tanks. Whitton Plumbing also installs In-Sink-Erator brand products, which nine out of ten plumbing professionals recommend for their quality and performance. In-Sink-Erator products are easier to install and provide greater peace of mind because they offer an exclusive We Come To YouTM In-Home Service Warranties, which are honored by the Whitton Plumbing Service Department.
WATER HEATER INSTALLATION
Whitton Plumbing can also repair your clogged toilets and damaged showers and bathtubs. Whitton Plumbing even installs water heaters and water treatment systems. Are you tired of your drinking water tasting like topsoil, or your shower water smelling like chlorine? Then contact Whitton Plumbing, Arizona's premier plumbing specialists.
MISTING SYSTEMS
Whitton Plumbing can even help you enjoy your favorite outdoor activities during the height of summer. Whitton Plumbing installs both residential and commercial misting systems. We design and install misting systems intended to keep your pool deck cool or your patio inviting. We also design and install those misting systems intended for commercial and agricultural use, such as employee misting systems in manufacturing facilities or misting systems designed to cool horses and other livestock.
Whatever your residential plumbing needs might be, Whitton Plumbing can help. Our team of plumbing professionals is available for emergency services 24 hours a day. Whitton Plumbing charges no overtime and no weekend rates, and we never saddle you with hidden fees or undisclosed costs.
75,000 satisfied Arizona households will agree that Whitton Plumbing is Arizona's top plumbing company. Whitton Plumbing offers free phone estimates for plumbing repairs and projects and guarantees a rapid response to your plumbing needs 24 hours a day, seven days a week.
Valley Wide: (480) 291-1111
Tucson: (520) 505-3236