Frequently Asked Questions
Question:

Why does the water temperature change in the shower when someone flushes the toilet or runs another water appliance in the house?
Answer:

This generally happens when someone uses water from the same water system and it changes the pressure in the water line feeding your showerhead. When you have changes in pressure on one side and not the other, you will feel the result of different volumes of hot versus cold water. You may consider purchasing a pressure balance valve, which will eliminate changes in pressure as well as any scalding.
---
Question:

What is the bad smell coming from my kitchen sink and how do I remedy this odor?
Answer:

The most common cause is a non-toxic sulfate reducing bacteria; this is bacteria around the drain hole. Hot water causes the odor to rise. The simplest solution is to pour a small amount of peroxide or bleach in and around the drain where the smell comes from. Occasionally, the drain must be disassembled and thoroughly cleaned.
---
Question:

What causes water pipes to rattle?
Answer:

This problem is usually caused by the water lines not being properly secured. This means that in one or more places, your water lines may not be secured properly with in a wall or attic. Many times the problem can be easily solved by adding an "Air Hammer Arrestor" into the water system.
---
Question:

What is the rotten eggs smell when I turn on the hot water and how do I remedy this odor?
Answer:

The rotten egg smell or Hydrogen sulfide gas can result from a number of different sources. It can occur naturally in groundwater. It can be produced by certain "sulfur bacteria" in the groundwater, in the well, or in the water distribution system. It can be produced also by sulfur bacteria or chemical reactions inside water heaters. In rare instances, it can result from pollution. The source of the gas is important when considering treatment options.
---
Question:

How do I clean hair from my bathroom sink and shower drains?
Answer:

We recommend against using Draino® or other drain clearing products!
There is a product called Zip-It Clean that you can purchase from us or on the internet and at most hardware stores that will effectively clean out hair and other debris that is clogging up your drain.
If you would rather not do this please give us a call and we would be happy to clear your drain for you.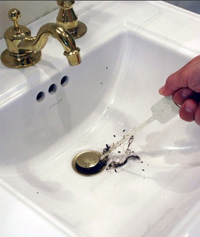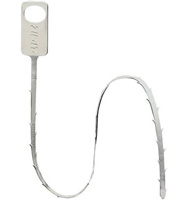 Note: A combination of boiling hot water and draino or another drain cleaner can be effective in clearing hair or other clogs from your shower and bathroom drians. However, we feel that manually clearing the drain is the most effective since in most cases a drain clearing product will just push the clog further down the drain and cause problems later on.
---
Question:

How do I tell if I have a leak in my plumbing?
Answer:

Determining if you have a leak in any of your plumbing pipes is quite easy. First, turn off all the faucets and valves in your home, sinks, dishwashers, clothes washers, etc. If you have a running toilet make sure you turn off the angle stop valve at the water supply to the toilet.
Now, locate your homes water meter. Watch your meter, if it is still running then you either have an open valve or you have a leak in your plumbing pipes. Time to call the plumber!
---