Arizona Gray Water Systems
WE NO LONGER PROVIDE GRAY WATER SYSTEMS.
Does saving money on your water bill and having a green yard in the summer seem like an impossible dream? If you answered "yes," then a gray water system installed by Whitton Plumbing may be the answer.
THE SOLUTION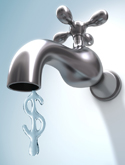 Gray water makes use of water that otherwise goes down the drain. Gray water systems take some of the water from clothes washers, bathroom sinks, tubs & showers and directs it for use in outdoor irrigation. This saves you money on your water bill each month and also conserves precious water.
Arizona State law was changed recently to allow residential use of gray water without a permit, however care must be taken if you intend to use gray water for you irrigation system. The Arizona Department of Environmental Quality (ADEQ) has some simple guidelines for this valuable alternative water supply. Click here to download a copy from the ADEQ website.
INSTALLATION
Gray Water Systems:
Reclaim water from your drains
Save money on your water bills
Require no permits for residential use
Have a State Tax Credit for installation costs
Because of the possible dangers of dumping contaminated black water from your toilet and kitchen sink into the water supply you should always contact a reputable plumbing company to recommend and install any gray water system. The professionals at Whitton Plumbing are available to answer any questions you might have about conserving water using this eco-friendly method.
Some cities in Arizona are now requiring new homes be built pre-plumbed with gray water systems in place because of the great benefits of recycling this type of water. If your home is not pre-plumbed for a gray water system please contact us to discuss the feasibility of adding this to your home.
TAX CREDIT
In addition, the State of Arizona now offers a tax credit to help cover the costs of installing a gray water system, click here for an application.
Valley Wide: (480) 291-1111
Tucson: (520) 505-3236