What Is An Outdoor Misting System?
June 01, 2019
Misting System Installation in Phoenix AZ

Outdoor misting systems pressurize water through small holes in a mist nozzle to disperse fine droplets of water. As the water evaporates, it can result in cooling effects of up to 30 degrees. Misting systems are installed approximately 8 to 10 feet above the ground, around the perimeter of your patio, gazebo, or other open-air structure to cool the surrounding areas. Think of it as a cool curtain of mist surrounding your outdoor living spaces.
Simply put, an outdoor misting system will make your outdoor spaces cool, comfortable, and, let's face it, bearable in July and August.
Won't I get wet? No, you won't get wet from an outdoor misting system. The droplets of water are so fine they evaporate almost immediately. The point of an outdoor misting system is to cool the air, not drench you and your guests.
What are the benefits of an outdoor misting system?
The benefits of outdoor misting systems reach far beyond its cooling properties. Outdoor misting systems can improve the quality of the time you spend outdoors in a multitude of ways:
Prevents pests
It won't stop unwanted house guests from stopping by, but it will help keep pests of the biting, stinging, winged variety away; Mosquitos and pesky flies. You see, the mist actually hampers the movement of flying insects. The fine droplets that come from the misting system stick to them, preventing them from crashing your party.
Gets rid of pollutants
Patio misters also clear the air of your outdoor living space by eliminating dust, smoke, and other airborne pollutants. If you have anyone in your household who suffers from allergies, this may be especially helpful for them.
Promotes plant growth
You're probably already familiar with the misting systems in greenhouses, or even in the produce section of the grocery store. So, it should come as no surprise that an outdoor misting system will help keep your plants cool and healthy in the summer heat.
If you have your own greenhouse, we also install greenhouse misting systems. They are typically installed on the underside of the greenhouse roof or on poles above your plants to create a climate-controlled environment your plants will thrive in.
Saves water and energy
We know, it seems weird, but it's true. Unlike a portable evaporative cooler, outdoor misting systems are surprisingly water and energy efficient.
Protects pets
Hot weather can be dangerous for your pets and probably limits the amount of time they spend outside. An outdoor misting system provides a cool space so they can enjoy spending time outdoors with the rest of the family.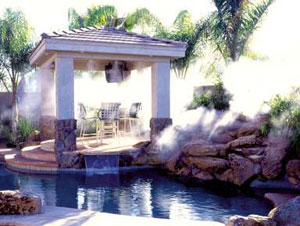 Expands your living space
Of all the benefits of installing an outdoor misting system, this is our favorite: you can enjoy your outdoor living spaces in even the warmest of temperatures. Imagine being able to enjoy your backyard, deck, patio, or outdoor play areas all year long. You can even plan hosted events without having to worry about the heat chasing you inside.
Outdoor misting system will help you and your guests will stay cool and comfortable in your outdoor living spaces, no matter the temperature outside.
If you are considering installing an outdoor misting system, contact us at Whitton Plumbing today before the sweltering heat sets in. Arizona's premier plumbing company, providing 24/7 service, Whitton Plumbing specializes in outdoor misting systems to help you keep your cool all summer long.
Valley Wide: (480) 291-1111
Tucson: (520) 505-3236